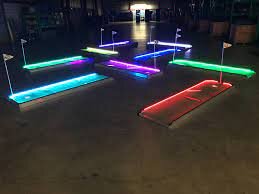 Description
Welcome to our exciting 9-hole Mini Golf course! Get ready to have a blast as you embark on a fun-filled adventure through our beautifully designed miniature golf course.
Perfect for all ages and skill levels, our Mini Golf course offers a challenging yet enjoyable experience for everyone. Whether you're a seasoned golfer or a beginner, you'll find plenty of excitement and entertainment as you navigate through the various obstacles and tricky holes.
Each hole is thoughtfully crafted with unique features, including slopes, bumps, curves, and even water hazards, adding an extra level of excitement to your game. Put your putting skills to the test as you aim for the perfect shot, strategize your moves, and aim for that elusive hole-in-one!
Our Mini Golf course is meticulously maintained to ensure a top-notch playing experience. The lush greenery, vibrant landscaping, and well-maintained fairways create a visually stunning and immersive environment that will transport you to a golfer's paradise.
Whether you're looking to plan a fun family outing, a date night, or a friendly competition with friends, our 9-hole Mini Golf course is the perfect choice. With its convenient location and affordable pricing, it's a fantastic way to spend quality time with loved ones while enjoying some friendly competition.
So, grab your putter, gather your friends and family, and come on down to experience the joy and excitement of our 9-hole Mini Golf course. It's time to tee off and create unforgettable memories that will last a lifetime!