Water Slide Rentals Austin TX
Get wet and wild with the baddest water slide rentals Austin TX has ever seen! Starting at an affordable rate, everyone has a chance to get crazy on the coolest Austin water slide rentals! When you arrive at Jump Around Party Rentals, you'll see some of the latest and greatest when it comes to inflatable water slides Austin locals rave over. With sizes ranging from 13 ft tall to 27 ft tall, we have something for every age group out there. Available in catchy colorful themes, our slides go with just about any type of event. These awesome inflatable water slide rentals Austin TX are a great option for backyard birthday parties, school events, church functions, festivals or other large social events.
At Jump Around Party Rentals we only have high-quality water slide rentals Austin at an affordable rate. However, affordability and quality come hand in hand to a certain extent. We provide the top-rated rental service to our Austin customers they have become accustomed to. We may not have any cheap Austin water slides but you can rest assured you will not find a dirty, molded, or torn apart inflatable here! Each one of our inflatable water slides Austin Texas is carefully inspected before we leave your event. Your satisfaction is important to us and we want you to be able to relax and have an epic time on our water slides in Austin TX
Reserve your water slide rentals Austin TX with Jump Around Party Rentals today for an epic good time! When booking your inflatable, be sure to include details on time constraints and other delivery notes! Also, for weekend parties, we can sometimes deliver a day or two earlier, simply include on the notes whether this is ok as well. Browse the selection below and choose a giant water slide rental Austin parties need.
32ft Pirate Dual Lane Water Slide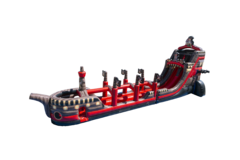 16ft Blue Marble Double Lane Water Slide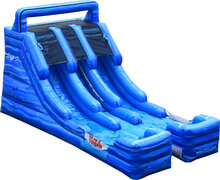 16ft Double Lane Big Kahuna Water Slide (Wet/Dry)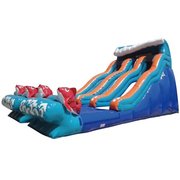 16ft Princess Pink Water Slide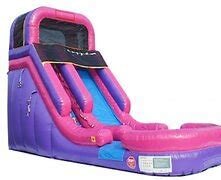 16ft Purple Wave Water Slide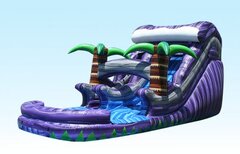 16ft Rainbow Water Slide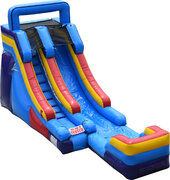 16ft Tsunami Wave Water Slide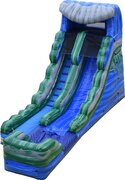 18ft All American Water Slide (Wet/Dry)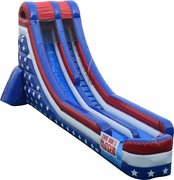 18ft Lava Stone Water Slide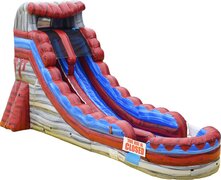 20ft Blue Crush Water Slide w/Slip N Slide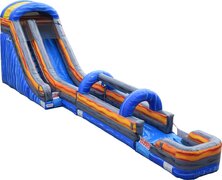 20ft Dark Knight Water Slide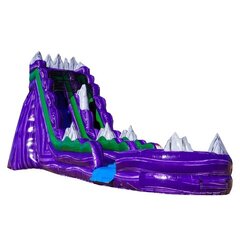 18ft Purple Falls Double Lane Water Slide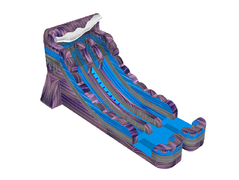 22ft Double Lane Bahama Blast Water Slide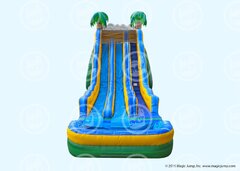 22ft Double Lane Tropical Blast Slide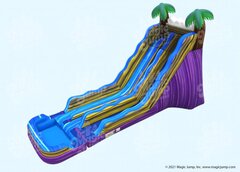 22ft Monster Wave Water Slide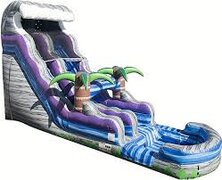 22ft Purple Crush Double Lane Water Slide w/pool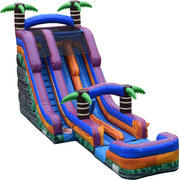 22ft Ruby Crush Water Slide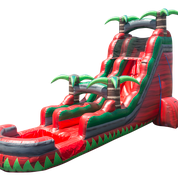 22ft Xtreme Tropical Water Slide W/Slip N Slide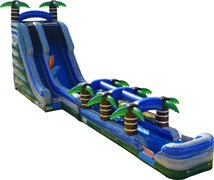 All American Double Lane Slip & Slide

Wave Runner Double Lane Slip & Slide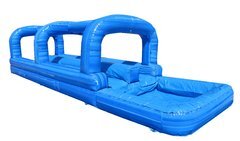 Tropical Slip N Slide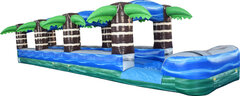 Large Assortment of Water Slides Rentals Austin TX Offers
All of our water slides rentals Austin TX feature some type of catch pools whether it's a splash landing or large pool at the end for the participants to splash into. What a rush! Each slide comes with a sprinkler system to keep you cool in the hot Texan sun. There really is no other better way to beat the summer heat. Couple that with some great friends or family and you have a recipe for a great experience!
Jump Around Party Rentals spares no expense when it comes to water slides. Putting smiles on your guest's faces comes easy when they see our water slides rentals Austin TX setup at the event. When they arrive, its pure amazement of the sheer size and colors of our units. There is a reason we are the top-rated company in the area for water slide rentals Austin Texas.
All Kinds of Water Slides Austin TX Kids Love
For years, we have been expanding to include all kinds of water slides Austin TX kids love in our inventory. If there is anything you can count on, it's that Jump Around will be constantly rotating our offering of Austin Texas water slides so that way you will never get bored of renting the same items year after year. We have all the popular sizes, themes, and configurations. Anything from a single lane to a dual lane with twice as much fun to be had.
We have options for a big water slide Austin teenagers go nuts over. With slides upwards to 27ft tall, there is something for every sized younger teen and even adult. They feature sizable lanes in the single lane configurations as well as some dual-lane options as well. The giant catch pool at the end of Austin Tx water slide rentals is sure a refreshing treat after climbing the mountain of steps.
Looking for something for the little ones? We have water slide jump house rental Austin toddlers adore as well as water slide bounce house Austin TX little ones like. All in all, they have smaller slides which are perfect for that age range. No need to worry if they will get scared once climbing to the slide platforms because they are specially designed for them in mind. We value your child's safety so we only select the very best to offer our customers for a water slide in Austin TX! Browse the 13ft to 18ft versions for the perfect water slides rentals Austin younger crowds request for backyard birthday parties.
Why Choose Us for Austin Water Slide Rentals for Parties
Our customers love Jump Around Party Rentals for their Austin water slide rentals because we are a company they can trust and rely on for their party or event. For years, we have been providing our customers with the most unique water slides for rent Austin TX. All of our inflatables are commercial grade and made of lead-free vinyl made from only reputable manufacturers in the USA like Bouncing Angels, EZ Inflatables and more. We clean and sanitize each Austin water slide after every rental for your kid's and guest's safety. Put your trust in Jump Around professionals for a safe and FUN time with the best water slides Austin has ever seen!
When renting a water slide from Jump Around Party Rentals, you can expect a memorable experience from the first interaction until after the event is over with. There is a reason for that! We are one of your premier sources for water slides in Austin Texas and surrounding areas. All of our options will fit within a range of budgets so everyone can afford our Austin water slide rentals without breaking the bank. While we may not be the answer if you are looking for cheap water slide rentals Austin TX but you can be sure you will get high-quality items for your event. Our professional delivery staff is knowledgeable in the safe set up and operation of each inflatable delivered to your event. As a customer, you literally have to just point them in the right direction where to set it up, power source location, and water source. It's that easy!
How to Book a Water Slide Rental Austin Customers Love
Booking your water slide rental Austin is just a few clicks away. If you are reading this then you are already looking at the best selection for an inflatable water slide rental Austin events choose! Just browse around our website to find which one of the coolest inflatable water slides Austin Texas has to offer that you're interested in renting. Once you've decided just click the Add to Cart button to select the slide. After that, you just need to follow the prompts to select the date and time, enter customer and event information, payment information for a deposit, and digitally sign your contract. Nothing to it! Just like buying anything else online on any other website except you are choosing good ole fun with a water slide rental Austin Texas backyard parties dream over.
Our goal is to make it easy and convenient to book your water slide rental Austin TX online at the convenience of your schedule. We understand it's stressful enough trying to plan a party or event so we decided to make it easy to browse and book any time of the day 24/7. The inventory shown on the website is live and accurately reflects availability. If you already know your date and time of the party just select the order by date function to see what's available in our inventory for the specific date. Easy peasy! Who knew it would be the crazy simple to book your inflatable water slide Austin Texas?
Our Park Policies for an Austin Water Slide
Nothing better than hosting a party at some of the beautiful parks Austin has to offer with the best Austin water slide for entertainment. Over the years, we have delivered to just about all of them in the Austin, Texas Metro area. Depending on which park you decide to host your party at, please check the City of Austin" website for any restrictions for renting some of our Austin water slides. The majority of parks don't allow you to use the shelter or pavilion electrical source so you will need to rent a generator. Don't worry, we have those too for you! We have everything you need to rent inflatable water slide Austin.
All of the parks in Texas require a minimum insurance policy for the rental company for your event. We have all the requirements as we are fully licensed, inspected, and insured in the State of Texas. Keep in mind, some parks may not allow waterslides to be set up at the event. If that's the case, just head over to our dry slides to see if there is something that will work for you. All in all, we will have the perfect option for a good ole Austin Texas water slide or any other type of inflatable rental you can think of. Austin's one-stop party rental shop for anything related to a water slide Austin kids love playing on! Let the FUN commence with the mother of all Austin water slides!
Frequently Asked Questions from Customers
Our customers frequently asked some of the basic questions before choosing which inflatable water slide rental Austin TX. So we have compiled a list of the general FAQ's to assist you along the way. Keep in mind, if you need any assistance in the planning of your event or unsure which inflatable water slide Austin TX is right for you then just contact us today. We have seasoned staff available to answer your questions via phone, email or live chat right here on the website. When you're looking to rent water slide Austin then you've come to the right place!
Which size water slides Austin is good for the little kids, ages 3-8? Well, we have a few options to choose from but anything 15ft or small would be a good range for them.
What inflatable water slides for Austin graduation parties would you suggest? A lot of our older kids or teenagers love the 22ft up to 27ft slides simply because they have larger lanes, steeper slopes, and huge catch pools.
How long do we get to keep the water slide rentals in Austin TX? A typical rental is anywhere between 4-6 hours but we can accommodate your party no problem. The rental rates are subject to change accordingly.
Are your Austin Texas water slides insured? Yes, we are fully insured and licensed to operate at any school, park, playground, or other venues throughout Austin, Texas, and surrounding areas in Bastrop, Caldwell, Hays, Travis, and Williamson Counties. Contact us for a Certificate of Insurance, if need be.
How early do I need to book my next water slide Austin TX? We recommend our customers book at least 2-3 days in advance so we have time to adjust our delivery schedule accordingly.
When looking for the best water slide rentals in Austin Texas, look no further. Jump Around is your leading provider when looking to rent inflatable water slides Austin TX.