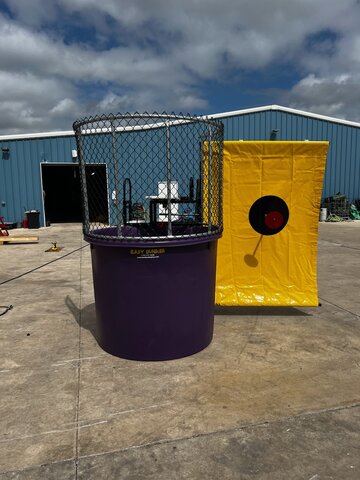 Description
Introducing the vibrant and exciting Dunk Tank Red! This eye-catching item is perfect for adding a splash of fun to any event or gathering. Whether you're hosting a carnival, fundraiser, or backyard party, the Dunk Tank Red is sure to be a hit.
Constructed with durable materials, this dunk tank is built to withstand hours of laughter and excitement. The vivid red color not only stands out in a crowd but also adds a touch of energy to the atmosphere. It's impossible to miss this attention-grabbing centerpiece!
The Dunk Tank Red is designed with safety in mind. Equipped with a sturdy seat for the "dunkee," this tank ensures a comfortable experience while waiting to take the plunge. The transparent window allows participants to see the anticipation on the faces of their friends and family before they hit the target and send them splashing into the water below.
Setting up the Dunk Tank Red is a breeze. With its user-friendly design, you can have it ready for action in no time. Simply fill the tank with water, position it securely, and let the fun begin! It's a fantastic way to entertain guests of all ages and create lasting memories.
Not only is the Dunk Tank Red a fantastic source of entertainment, but it also provides an excellent opportunity for fundraising. Charge participants for their chance to dunk their favorite teacher, boss, or local celebrity, and watch the donations pour in. It's a win-win situation that will leave everyone feeling satisfied and fulfilled.
So, why wait? Make a splash at your next event with the Dunk Tank Red. Order yours today and get ready to dive into a world of laughter, excitement, and unforgettable memories.
rple