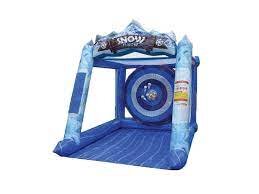 Setup Area: Height: 10' Width: 10' Length: 8'
Actual Size: Height: 10' Width: 10' Length: 8'
Monitors: 1 Adult
Outlets: 1 Household 110v
Age Group: 3 & Up
Description
Introducing the Snow Velcro AXE Throw in Austin, TX - an exhilarating and unique winter-themed activity that combines the thrill of axe throwing with the fun of snow!
Get ready to unleash your inner lumberjack as you step into our axe throwing arena, specially designed to resemble a winter wonderland. With the Snow Velcro AXE Throw, you'll experience the excitement of throwing real axes at a target covered in soft, velcro-covered snowballs.
Perfect for individuals, groups, and team-building events, this one-of-a-kind activity will test your aim, precision, and competitive spirit. Whether you're a seasoned axe thrower or a beginner looking for a new adventure, our experienced instructors will guide you through the process, ensuring a safe and enjoyable experience for all.
Located in the heart of Austin, TX, our Snow Velcro AXE Throw facility offers a unique escape from the ordinary. Gather your friends, family, or colleagues and challenge each other to hit the bullseye, score the highest points, or engage in friendly competitions. It's a great way to bond, have fun, and create lasting memories.
Don't worry about the weather - our indoor facility is climate-controlled, allowing you to enjoy the snowy experience no matter the season. Plus, our velcro-covered snowballs are completely safe, ensuring a risk-free activity for participants of all ages.
So, why wait? Grab your warmest winter gear and head over to Snow Velcro AXE Throw in Austin, TX for an unforgettable adventure. Book your session now and prepare to unleash your inner axe-throwing champion in a snowy wonderland like no other!
2+95