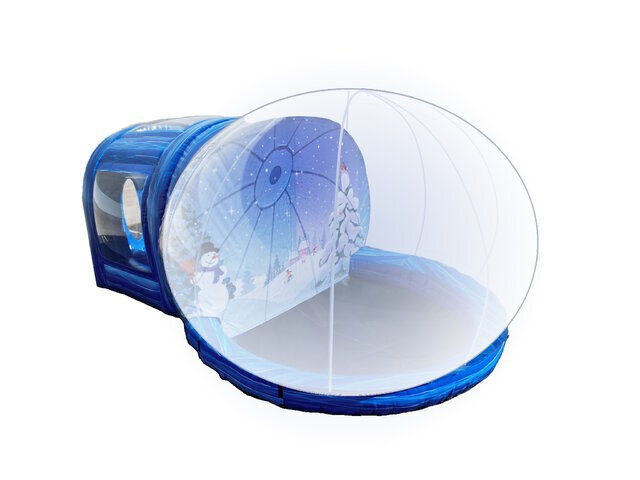 Setup Area: Height: 14' Width: 16' Length: 29'
Actual Size: Height: 14' Width: 16' Length: 29'
Monitors: 1 Adult
Outlets: 2 Household 110v
Age Group: 3 & Up
Description
Introducing our stunning Snow Globe W/ Snow, the perfect addition to your holiday decorations or collection. This exquisite snow globe features a mesmerizing winter scene that will fill your space with a sense of enchantment and wonder.
Crafted with meticulous attention to detail, our snow globe showcases a picturesque winter landscape, complete with a charming snow-covered village, majestic evergreen trees, and delicate snowflakes gently falling from above. The intricate design captures the essence of a serene winter wonderland, creating a captivating display that will captivate both children and adults alike.
With just a gentle shake, watch as the snowflakes inside the globe dance and twirl, creating a magical snowfall effect that will transport you to a world of pure delight. The high-quality glass globe is crystal clear, allowing the light to beautifully reflect off the snowflakes and enhance the visual appeal.
This snow globe is not only a visual delight but also a delightful sensory experience. The snow-like particles inside are carefully crafted to mimic the texture and appearance of real snow, adding a tactile element to the enchanting scene. Shake it gently, and you'll feel like you're holding a piece of winter magic in your hands.
Measuring [dimensions], our Snow Globe W/ Snow is the perfect size to display on your mantel, shelf, or tabletop. It also makes an exquisite gift for loved ones during the holiday season, birthdays, or any special occasion. Whether you're a snow globe collector or simply looking to add a touch of whimsy to your home decor, this snow globe is sure to become a cherished keepsake for years to come.
Experience the joy and tranquility of winter with our Snow Globe W/ Snow. Order yours today and let the magic of the season come to life in your home.