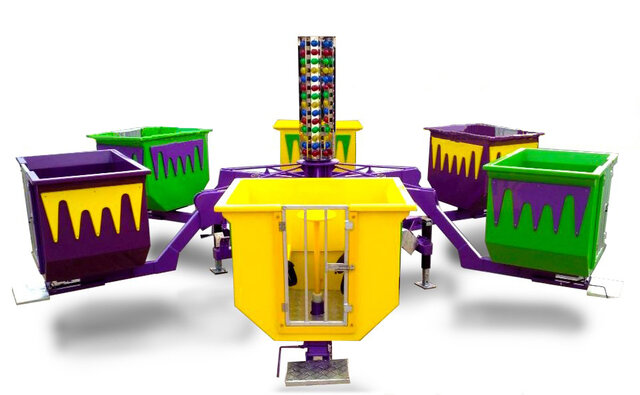 Setup Area: Height: 14' Width: 32' Length: 32'
Actual Size: Height: 14' Width: 32' Length: 32'
Monitors: 1 Adult
Age Group: 3 & Up
Description
Introducing the thrilling Turbo Tubs Of Fun carnival ride, available for rental in Austin, TX! Get ready for an exhilarating and unforgettable experience that will leave your guests spinning with excitement.
The Turbo Tubs Of Fun is a classic carnival ride that combines the thrill of spinning and twirling with the fun of interactive tubs. Perfect for all ages, this ride features a central rotating platform with multiple tubs attached. Each tub can accommodate up to two riders, allowing friends and family to enjoy the ride together.
As the ride starts, the central platform begins to spin, gradually increasing in speed. The tubs, equipped with individual controls, also rotate independently, giving riders the power to control their own spinning experience. Whether you prefer a gentle whirl or a wild spin, the Turbo Tubs Of Fun can cater to all levels of thrill-seeking.
Safety is our top priority, and our Turbo Tubs Of Fun ride is built with sturdy materials and equipped with safety features such as seat belts and secure restraints. Our professional and experienced staff will ensure that the ride is set up and operated safely throughout your event.
Ideal for carnivals, festivals, corporate events, school functions, and private parties, the Turbo Tubs Of Fun is a crowd-pleasing attraction that will keep your guests entertained for hours. It provides a unique and exciting experience that will create lasting memories for everyone.
Don't miss out on the opportunity to add a thrilling and fun element to your next event. Contact us today to book the Turbo Tubs Of Fun carnival ride rental in Austin, TX, and let the spinning excitement begin!