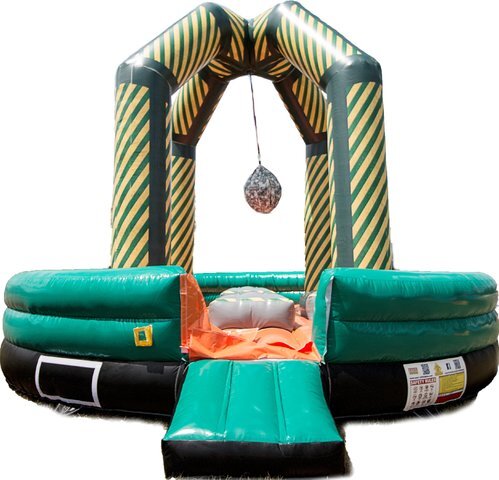 Setup Area: Height: 24' Width: 24' Length: 14'
Actual Size: Height: 24' Width: 24' Length: 14'
Monitors: 1 Adult Required
Outlets: 1 - 110v Household Outlet
Age Group: 6 & Up
Description
Wrecking Ball Rental
The Wrecking Ball Game is an awesome attraction with giant arches featuring a construction zone design with an inflated wrecking ball hanging from the middle, giving you maximum excitement with a hint of danger! Up to 4 oponents swing the wrecking ball into each other to see who is left standing on their pedestal last!
This large ring consists of 3ft inflated guard walls to prevent anyone from falling out while competing. Use the inflated safety ramp to climb onto and get through the entrance to start your challenge! This also provides an extra safety element for young kids rushing to get into the arena. Once you've entered the ride parents or attendants have the option to velcroe a vinyl gate across the entrance to enclose the ring to prevent anyone from rolling out.
The safety rules for the ride is printed on the entrance of the inflatable to ensure awareness of safe practices while enjoying this super fun challenge! This ia a great attraction for boys and girls enjoy alike. The floor of this ring is also inflated to keep those jumps springy and cushion any falls off the pedestals.
Features
15' wrecking ball hanging from construction zoned frames
Ramp for easy access
4 pedestals
Inflatable Ring to pad falls
Inflatable railings to prevent falling out