Dunk Tank Rental Austin
Step right up! Who is next in line to see who has what it takes to smash the target on our awesome carnival-styled dunk tank rental Austin loves for large events? While a classic but staple entertainment piece for large events, our Austin dunk tank rental is a sure showstopper. All your guests will gather around spectating while the lucky VIP on the hot seat awaits to see who has the skills to hit the round red target to send them plunging into 500 gallons of water.
These are great for large events like school festivals, church functions, corporate events, sports parties, community events, and more. The most popular reason to rent a dunk tank Austin is for those fundraisers. A great way to raise funds by charging folks money to take their chances at dunking the special person on the hot seat. Book yours today and enjoy fun for hours! Water not included.
All American Dunk Tank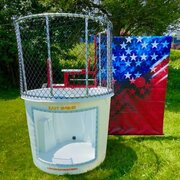 Dunk Tank Blue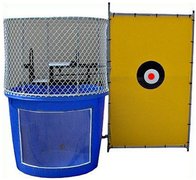 Dunk Tank Collapsible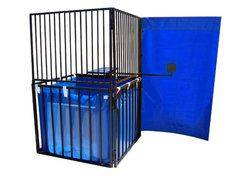 Dunk Tank Green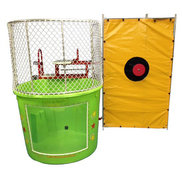 Dunking Booth Rental Austin
Pick your favorite coach, teacher, pastor, boss, co-workers, family member, local politician, or any other special person to be the VIP on the hot seat with a dunking booth rental Austin. As the suspense builds for them, your guests will get to watch as participants take their chances with 3 tosses at our 12-inch round steel target which will send them plunging into the refreshing water. Add in some fun for those holiday parties or special events with some food coloring in the water or floating trinkets. Either way, we are sure you and everyone in attendance will take part in tons of laughter. Everyone loves an Austin dunk tank rental!
Dunk tanks are a timeless party tradition that provides laughs and excitement for everyone (except maybe the person being dunked), and one of our dunk tank rentals lets you bring the hit game to your next party or event! The goal is simple: toss a ball towards a target which, when struck, drops the unlucky volunteer into the pool portion of the tank! Check out the various configurations that we offer, and be sure to make your reservation as soon as possible to guarantee availability.
Remember, all rentals come with our guaranteed on-time delivery, and we always fully inspect all equipment before it arrives at your address, ensuring your total satisfaction. To learn more, be sure to reach out to us directly at your earliest convenience!
All of our dunking booths are made from commercial-grade materials and inspected at the time of setup. They feature see-through windows so everyone can capture those funny moments. No better way to entertain lots of people with the ever so classic but favorite dunking booth rental Austin TX.
Booking My Dunking Booth Rentals Austin
Booking your dunking booth rentals Austin has never been easier. Just click the add to cart button and you're on your way to booking some amazing fun for your events. Complete some information online with your customer information and event information before proceeding to the payment screen. We require a minimum deposit for our dunking booth rentals Austin TX and a digitally signed contract to complete your online reservation. Our software will automatically send you an invoice along with a series of helpful emails along the way. If you have any questions or need any assistance along the way, don't hesitate to reach out to our friendly staff at Jump Around Party Rentals regarding an Austin Texas dunk tank.